While we love many parts of the season, many people find the holidays can have challenges. Holiday stress for couples can leave both partners feeling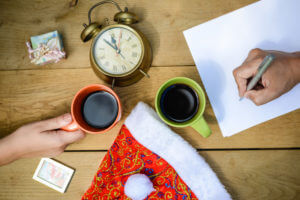 overwhelmed, tired and irritable. Arguments often surface during the holiday season, as tensions rise in navigating all the demands that tend to emerge.
Here we're offering six key ideas to reduce holiday stress for couples, to head off or avoid some of the potential stress-producing conflicts and challenges.
Key #1: Plan and Talk First
Problems often arise and produce holiday stress for couples when there's been a lack of planning and discussion. Often, holiday habits have accumulated over the years without much thought to whether they are both healthy and truly enjoyable.
Failure to plan can look (and feel) like:
"We always spend too much time at your parents' house, and much less with my parents."

"I'm anxious about the credit card bills we'll be seeing in January."

"We're so busy during the holidays. I almost feel like I'm looking forward to going back to work because I need the peace and quiet."

"I think we accept way too many party invitations. We eat and drink more than we should, and then neither of us feels very good."

"Every holiday season seems like the last, but not very memorable. I think we've lost the meaning of the holidays."

"We seem to get into more arguments during the holidays. I'm not sure why we do, but the disagreements are so exhausting and painful."
The remedy? Set aside plenty of time before the holidays to discuss what each of you would really like. Even use a calendar to mark out all the possibilities. The visual can help you decide whether it seems you will be busier than you want and whether you've included time to rest and relax. Planning can reduce holiday stress for couples by discussing and collaborating on the best ways to spend the time and any vacation days off work.
Key #2: Set Boundaries Together
Grandparents usually want as much time as possible with the grandkids, and there's often pressure to maintain family traditions of spending the holidays together. Couples often are stuck in how to decide where to visit and for how long.
Stepping back and planning ahead can be helpful. If you both can reach some agreements, then you can stand together as a united team in letting your parents know any differences in this year's plans.
Boundaries apply to kids as well. As a couple, you can discuss and agree on kids' activities during the holidays. They're typically off from school for an extended time, and parents today often feel pressured to keep their kids busy. Extra activities can be draining on family time and finances, so it's helpful to agree on what works best. Then, spend time talking with your children about what's available this year. You and your spouse or partner can help each other stay firm when the kids ask for more, which will definitely help that holiday stress level.
Key #3: Discuss and Agree on Holiday Spending
So many pressures abound to spend more than planned before and during the holidays. "Black Friday" used to be a day; now it's more like a month. The sales are enticing, certainly, and retailers both in-store and online are doing their best to lure you toward all types of purchases.
Budgeting and setting limits is not always an easy topic for couples, yet money often a source of conflict after spending takes place. One path of reducing holiday stress for couples is to agree on holiday expenses beforehand.
Since the Great Recession of 2008, we've noticed a shift toward "experiences" rather than "things." People are focusing more on activities spent together as a couple or as a family than in the past. And, experiences may linger in our memories longer than gifts.
Here's a quick test: Think about last year's holiday season. What do you remember most? If your best memories are of times spent with people, of a trip you took or a fun game played indoors or out, then experiences seem to be more meaningful. Sometimes we can't even remember the gifts we gave or received.
Experiences don't have to be lavish or expensive. Planning a hike and a picnic . . . a bike ride to a new location . . . making holiday decorations . . . volunteering as a family in your community. . . a one-day road trip to a new location or an old favorite. Creating memories together is part of the "glue" that holds couples and families together.
Key #4: Clarify Expectations & Speak Up About What's Most Important
It's so easy to get caught up in our hopes and beliefs about what we would like the holidays to be. And, also perhaps easy to be disappointed when what we hoped for did not materialize.
As part of holiday stress reduction, you can try this process, adapted from Appreciative Inquiry, which is a planning tool used in organizations. Set aside some time for just the two of you. "Interview" each other on the four questions below. Take notes on what your partner says so you can remember the highlights. As you do the interviews, be curious and ask your partner to tell you more so you can truly understand what was meaningful for them.
Here are the four questions:
Talk about some peak experiences from past holidays, either since you have been together or in years prior. What was special or unique that made these times memorable? How did these experiences make you feel? Provide rich details about who was present, where you were, what was happening and the feelings you experienced at the time.

What do you value most about your relationship and/or your immediate family?

What is special and unique about your relationship as a couple? If someone were looking down from a helicopter and watching you two together, what would they see that is positive and joyous?

What are three (or more) wishes you have for your relationship or family for the holidays?
You can use what came up during this process to plan this season's holidays, as well as other holidays and vacations.
Key#5: Define & Divide Chores & Tasks
Retailers love to remind us of the number of days that remain before the holidays. We, on the other hand, are feeling overwhelmed and can feel our holiday stress levels rising with each pronouncement of how few days are left for all that has to be done.
Working out a "division of labor" beforehand can help reduce some of this stress. Making a list (and checking it twice!) early in the planning process can avoid tension and arguments later. By listing all that has to be done and selecting who will do what can diffuse some of the feelings of overwhelm. You may want to include older children in the tasks list as well.
This conversation is also a time to make some decisions about how you want to celebrate this year. Are there ways to eliminate some activities or tasks in exchange for fewer obligations — and perhaps more meaningful experiences? Do we really need six side dishes for the main holiday dinner? Which decorations really are important to us? You get the idea: Pick what's most important and meaningful while being mindful of all the work that's involved.
This, again, is a time when it's important for both partners to be open and honest about their needs. The desire to please others really comes to the forefront at the holidays, and a frank discussion between you may lead to some fruitful insights about what is truly important and necessary this season.
Key #6: Define Some "Couple Time" for Just the Two of You
It's not uncommon when the holidays are finally over for couples to feel something important was missing. So much went into pleasing kids, parents and extended family that the couple can feel less connected, as well as somewhat exhausted.
If one or both of you are taking vacation time from work over the holidays, you know these days are often a limited quantity. Travel time, shopping and preparing were carefully planned. But what about just you two?
As part of your process for avoiding holiday stress for couples, consider planning some time just for you and your partner or spouse. Perhaps some date nights. Or, if grandparents are willing to care for your children, a night or two away just by yourselves. And, yes, some time for intimacy is important, too.
Reducing Holiday Stress for Couples: A Total Game Plan
All told, the above suggestions are designed to get you and your partner talking and planning. To create the best-possible holiday season, it's important to speak up about what you want — and what you'd like to avoid.
Together, you can work toward consensus — the concept of agreement in which you have talked through the issues and can say that, while a particular plan may not be perfect, each of you can agree sufficiently about what seems to be the best-possible solutions.
Keep in mind that it's helpful to avoid saying "Yes" when you really mean, "No, I'd really rather not." Agreeing in order to please others or to avoid conflict can be the root of a later resentment.
Happy Holidays from all of us at Peaceful Life Counseling!
If you'd like to talk about how to approach holiday stress we're here to help. You can schedule a complimentary half hour couples counseling consultation, or a full session here. For some tips on how to practice healthy communication, check out this post on using G.I.V.E to practice healthy communication with your partner.