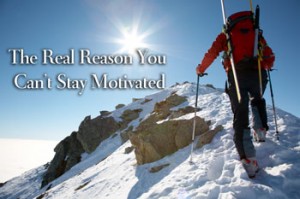 I have a really bad habit when I'm trying to stay motivated to change something about my life. It's something that I recognize does me no good, but it creeps up on me like the dishes and the laundry. I don't notice it at first, but then suddenly I'm knee-deep.  Somehow my optimism about things has dissolved and I have a case of the screw-its. I'm talking about feeling discouraged at the amount of progress I've made in my endeavors. Trying to be a better parent and spouse. Trying to do the things that I know are important for my mental and physical well-being.  Have you ever worked hard at something, but couldn't stay motivated because you weren't seeing any progress? Since I'm a human, I do things that work against my peace of mind. And, since I'm a therapist, I know I didn't invent this little mind game.  In my Lakewood counseling practice I see this all the time.
There are plenty ways to describe this habit. You can call it perfectionism, pessimism, realism, the need for instant gratification (I want this issue fixed now). Sometimes I just call it:
"I'm never going to stop yelling as a parent. Things were going well this morning and then I blew it."
"My partner and I haven't solved our fighting problem, this isn't working at all."
Why do we do this to ourselves? Goal setting and staying motivated while you are imperfect isn't easy. Here's a neat way to combat this that I got from a mentor of mine:
String.
Yes.
String. This is a powerful metaphor for setting goals and having confidence. And it's a way to learn how to be gentle with yourself. Here's how it goes:
Everyone has a certain length of string. This string represents how much good stuff we have that can combat a problem. Coping skills and tools to use in difficult situations. Knowledge that we need. Resources such as having enough support and encouragement. Usually we have a relatively short piece of string. We humans tend to recycle the same strategies to deal with issues over and over. We yell. We sulk. We turn to substances or other distractions. We get mad. We approach our issues the same way over and over.
We add to our string every time that we work at improving ourselves, try to learn new ways to deal, etc.  So you tried to be patient with your spouse and not start an argument when you would otherwise have gotten into a huge fight? String. You are trying to take better care of yourself by eating healthier? String. You tried out meditation that one time? String. We don't add a whole lot of string at one time because we don't magically erase all of our problems at once. We tend to add it inch by inch.
Here's the problem
If you had five feet of string, then, no, an inch wouldn't even be noticeable. That is the lens that we are looking through – we think we have way more than we do, so small changes are too little, too late. But, adding an inch of string to 4 inches is a significant improvement.  That's something to protect and keep working at. It's very, very easy to discount your efforts because you think that you should be better at this happiness thing. Then, it's hard to stay motivated to keep trying.
You didn't yell at your children this morning, but by the end of the day you were barking orders from the couch again. You tried really hard not to argue with your spouse, but you still had an argument anyway. We think, "That's nice, but it's not enough. This isn't fixed." We focus on the fact that we didn't add ten feet of string, and we cut off the bit that we do have by thinking it's not enough.
It may sound strange that overestimating how many coping skills we really have is not helpful. Isn't self-esteem important? But, what does it do to your self-esteem to feel like no matter how hard you try, you stink and aren't changing enough in your life?  By remembering that naturally we humans only have a few ways that we know of to deal with issues, we can take a deep breath and realize that a teeny bit of string added (to our tiny bit of string) is a real change. Yelling bit less during the day, holding off before you jump into that argument, thinking about starting to eat better – inch by inch you are making real progress.
So when I'm getting discouraged at just how little I've been able to change, I try to take that as a clue that I need to think about string. If you are struggling to improve your relationships or accomplish your goals and feeling stuck, it might be time to call us at (720) 443-1947 to schedule a free 30-minute consultation and learn how to create the life you want.