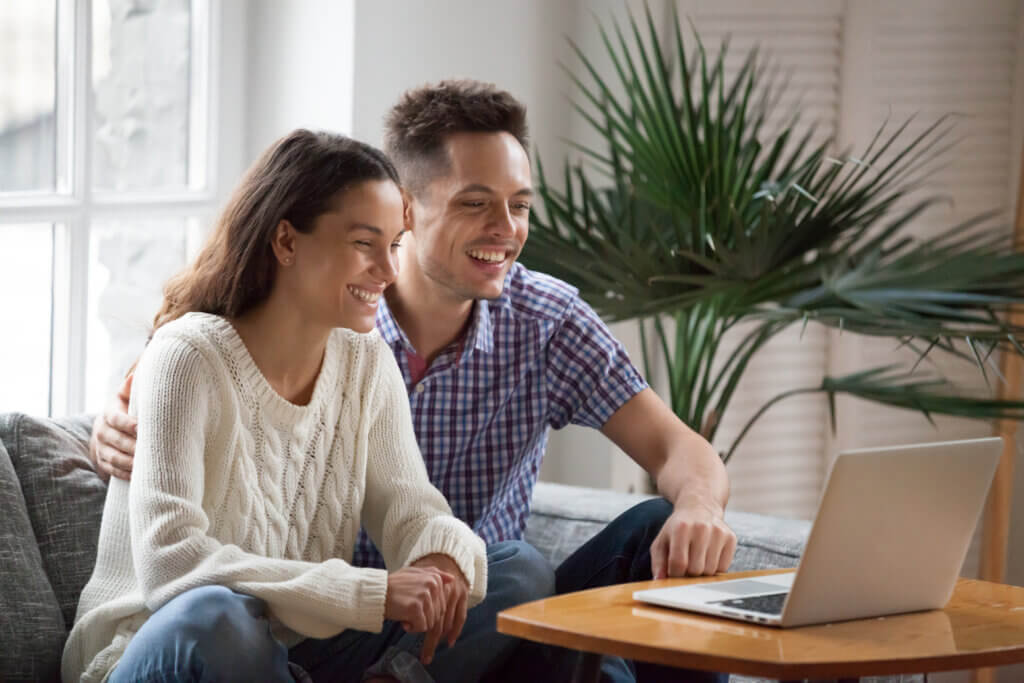 Long gone are the days when you really needed to "find couples counseling near me." At least, to a certain extent. One thing that this pandemic has done to the field of psychotherapy is that it has pushed all therapists deeply past their comfort zones with providing online couples counseling or teletherapy for marriage counseling. It has also provided most people with a new tolerance for video chatting, which means that the idea of Zoom counseling or Skype Therapy feels much more normal for people to consider.
When you book a teletherapy session, the link that you click for your appointment is right in your confirmation email. When it comes time for your session, simply click the link and bam! You are having an online therapy session right in the comfort of your home.
I do anticipate continuing to offer online couples counseling from our offices long after the pandemic has calmed down. It just makes sense. There are, however, some pro's and cons to online couples counseling that I'd like to outline.
Pros To Online Couples Counseling
Time: You don't have to factor in a commute, and it may be easier to work a counseling session into your busy schedule.
Convenience: Obviously, it's very convenient. You may not even need childcare for your online couples counseling session. You can do an online couples counseling or individual therapy session even if you usually come into the office for your sessions. In fact, we'd appreciate you staying home in some situations – sickness, blizzard, etc!
Comfort: In the comfort of your own space, you may feel more at ease. And there's no judgement about how comfy your pants are.
Consistency: It may be easier to make a real commitment to online couples counseling, meaning that fewer things will get in the way and result in skipped sessions. Consistency in counseling is very important. You don't want to lose ground by going too long between sessions. If you are wondering how often you should come to couples counseling, we have a great article on that.
Cons To Online Couples Counseling
Technology: Sometime's it's a pain. You know that.
Distractions: Your animals, your children, your doorbell. Being at home in general. Make sure that you get yourself into the mindset you need for your couples therapy and eliminate as many potential distractions as you can.
Comfort: This can be a con as well! It might feel a bit strange at first to talk to someone on a screen. It might feel like you can't get comfy in your regular space. Most couples do adapt to this, but it's something to think about.
There are limits: Online therapy isn't ideal for some people. If you are struggling with any type of suicidal ideation or need more intensive treatment, online couples counseling or individual therapy may not be ideal. And, to put it frankly, online counseling could be challenging for people who have a hard time managing really big emotions without the help of having the therapist there in person with you. Also, I can only offer online couples counseling or virtual individual therapy to folks who presently reside in Colorado, and are co-located at the same computer.
How to Get Started
There are a lot of helpful articles here about how to prepare for a consultation and an introduction to Emotionally Focused Couples Therapy.
You can start by reaching out for more information about online couples counseling in a variety of ways:
15-Min Chat
Have questions? We'll call you at a convenient time to chat.
---
Free 30-Min Consultation
Let's take a test-drive. Meet with a clinician and discuss your needs.
Initial Session
Is now the time? Book an Initial Online Couples Counseling or Individual Session.