Denver Hold Me Tight Couples Workshop Retreat Weekend
Email Info at A Peaceful Life Counseling dot com to inquire about upcoming couples workshops
Strengthen Your Relationship with Proven Communication Strategies by the Originator of
Emotionally Focused Therapy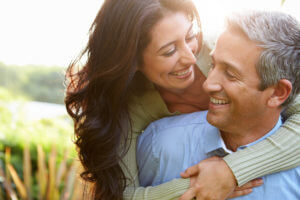 Do You and Your Partner Struggle to Communicate and Truly Feel Understood?
Do You Want to Learn Effective and Practical Ways to Navigate Couples Communication?
Many couples need communication tools, and want to learn how to avoid getting into fights or feeling distant in the first place. If you find yourselves fighting the same fight over and over, you can attest to how miserable it feels. Even if you aren't struggling like this, you may want to learn some relationship strategies that have been proven to work so that you don't wind up creating years of bad relationship habits. The Denver Hold Me Tight Couples Workshop Retreat Weekend may be the perfect thing for your relationship.
Every couple eventually has challenges when it comes to communicating effectively, without unnecessary conflict or distance. The Denver Hold Me Tight Couples Workshop Retreat Weekend is based on the bestselling book Hold Me Tight, Seven Conversation for Love by Dr. Sue Johnson, who is the originator of Emotionally Focused Therapy (EFT). This workshop is designed to jump start you into understanding the science behind your connection, and how to get unstuck when things get difficult.
Maybe you and your partner have been struggling to communicate without getting stuck in fights or distance. Perhaps you would rather come to a workshop than participate in couples counseling, or would like to jumpstart your counseling. Whether you are just looking for some relationship advice that is practical, or you really need to reconnect with your partner and communicate more effectively, this workshop will help. The Denver Hold Me Tight Couples Workshop Retreat Weekend will teach you to understand the powerful concepts that underlie your conflict, and help you complete seven different conversations that will help strengthen your bond.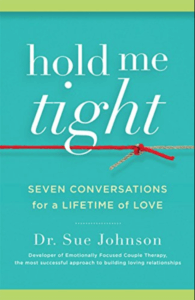 Dr. Sue Johnson developed Emotionally Focused Therapy (EFT), and she created the Hold me Tight program to follow her bestselling book Hold Me Tight, Seven Conversations for a Lifetime of Love.
Emotionally Focused Therapy (EFT) is based on over 25 years of peer-reviewed clinical research about what makes love strong, and how couples who repair and deepen their connection do that. Emotionally Focused Therapy is unmatched when it comes to how well researched and grounded in solid scientific theory it is, and we are excited to bring the skills and tools to you. This "Marriage Workshop" or "Relationship Coaching Class" is renowned around the world for the experience that it offers in a no pressure learning environment.
When we can truly understand what's going on with the feelings that come up in our partner, we can navigate our way through conversations in a more positive and effective way. Rather than feeling confused, powerless, angry, or misunderstood, you can both feel more loving and calm. This is the foundation of a lasting bond, and we can teach you the ingredients.
The Denver Hold Me Tight Couples Workshop Retreat Weekend gives you a map to decode what's really happening when you get hooked into a conflict, or aren't sure how to communicate with your partner. Through supportive, clear, and lighthearted exercises, you will gain real experience having conversations that don't mystify or anger each other.
Recognize and understand the strengths in your relationship
Get a handle on communication habits or patterns that aren't helpful
Demystify those pesky emotions
Get to the heart of the matter in the conflict
Install a Repair Button and a Forgiveness Button in your communication
Feel closer and improve intimacy
What Happens in The Denver Hold Me Tight Couples Workshop Retreat Weekend? 
Part relationship coaching, part communication workshop, this class will help you have a truly different experience with your partner. You'll learn some of the science behind how relationships actually work, and why we seem to get stuck in negative patterns. You will be guided through the exercises in a way that helps you get a true feel for how to navigate these healing conversations on your own.
If you have ever wondered if a relationship class or couples communication workshop would be a good idea, this really is the one to try. You will have presentations by the workshop leaders, watch video demonstrations of the exercises and skills in action, and have private time together to try these conversations out, all with the support of experienced couples therapists to troubleshoot stuck spots.
The Denver Hold Me Tight Couples Workshop Retreat Weekend takes places over two separate Saturdays so that you're done quickly, but don't have to give up an entire weekend to experience the seven modules:
Lunch will be on your own, and there are a variety of nearby restaurants to choose from. Drinks and snacks will be provided. The workshop is limited to 8 couples to allow for greater ability to attend to each participant.
What People Say About the Hold Me Tight Workshop through A Peaceful Life Counseling:
This was one of the best things we could have done. This was better than two previous years of therapy, in two days!
Thank you so much Kat and Shauna – this was actually fun. I think we have some good tools to try to resolve conflict better.
Thank you for a wonderful experience, this gave us so much to think about and we are definitely feeling better already!
About the Presenters
Kat Mindenhall, LCSW, is the Owner and Director of A Peaceful Life Counseling Services. She brings over ten years of experience to her work with couples, and is passionate about teaching the concepts that go along with healthy relationship change. Kat has presented at regional conferences to other therapists on topics related to helping families have more connected relationships, and she's excited to bring this highly acclaimed couples workshop to Lakewood. Kat's passion for Emotionally Focused Therapy and treating relational intimacy and sexual concerns is something she loves to share.
---
How do I register for the Denver Hold Me Tight Couples Workshop Retreat Weekend?
We are in the process of planning our next Hold Me Tight Couples Workshop, so if you'd like to get on our list, or even get the scoop on which of our esteemed colleagues is offering the Hold Me Tight Couples Workshop in Denver soonest, give us a call or email info at apeacefullifecounseling dot com.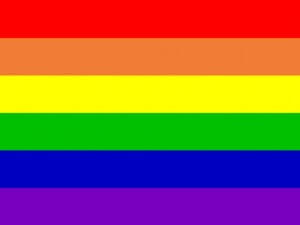 Denver Hold Me Tight Couples Workshop Retreat Weekend is LGBTQ Affirmative
We celebrate love in all of its forms, and we want you to know that everyone is welcome here into an atmosphere of respect and affirmation. We also expect no less from our participants.
Hold Me Tight® is a registered trademark.